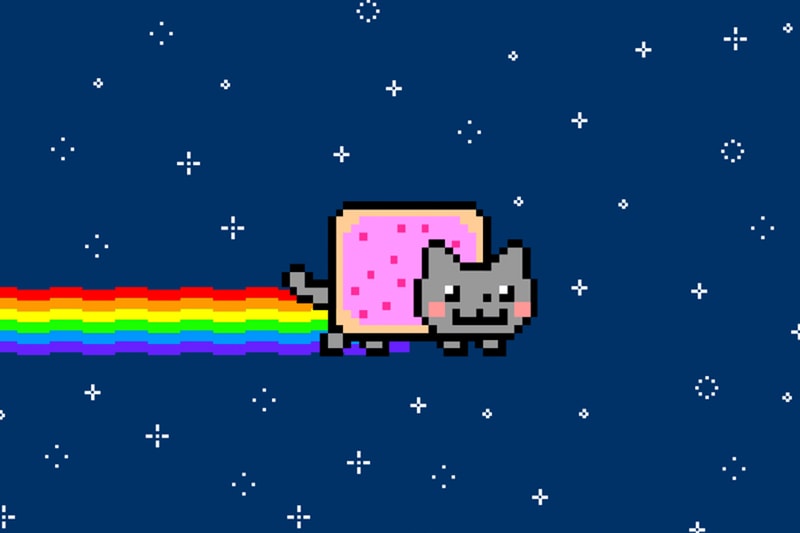 Nyan Cat is turning 10 years old this April, and to celebrate the momentous anniversary of one of the Internet's greatest and most wholesome memes, its creator Chris Torres is offering up a one-of-a-kind remastered version of the GIF for auction over on Foundation, a crypto art platform.
With roughly 14 hours to go, the current bid on the joyful GIF is at 13.3 ETH, which roughly translates to $25,600 USD according to Ether's current value. Torres reassures that the GIF is now exactly the way it should look, after he made a series of tweaks and changes to the almost decade-old version he uploaded to YouTube back in 2011. For example, one particular star would appear randomly in the original 12-frame animation, and it bothered him enough to remove it for the remastered edition. "I'm looking at [the GIF] right now, and I'm like, 'Yes, it looks good,'" Torres said over the phone with The Verge. "I think it turned out really well this time around."
Crypto art has seen a proliferation in recent years. A number of digital marketplaces have sprung up, like Nifty Gateway, Zora, and SuperRare, allowing artists and buyers to trade digital artwork conveniently. Foundation itself is one of the newest platforms, having launched just two weeks ago, but it has already recorded $410,000 USD in transactions. Explaining the phenomenon, the platform's head of community Lindsay Howard said: "To be able to say that I'm the collector who actually owns and is a patron of this artist carries a certain kind of prestige that is really appealing to people. You also get to directly support an artist, and I think that is really exciting for people." In another instance, a digital artist by the name of Beeple sold an incredible $3.5 million USD's worth of art over the last year.
For those interested in bidding on Torres' newly remastered Nyan Cat GIF, you can head over to Foundation.
Elsewhere in art, Oklahoma Contemporary has launched a major exhibition by Ed Ruscha.
Click here to view full gallery at HYPEBEAST