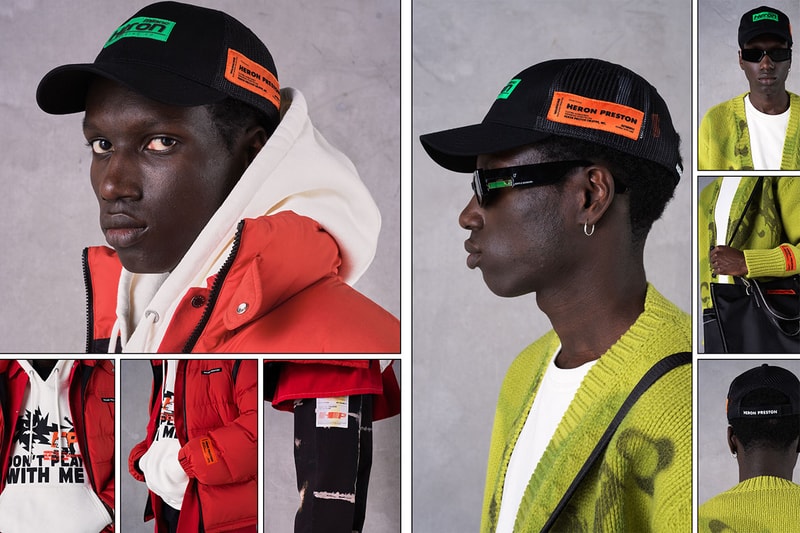 Heron Preston's Spring/Summer 2021 collection was a prelude to the brand's ongoing existence, as its eponymous founder streamlines his output and returns to his comfort zone. Fall/Winter 2021, "Between Two Worlds," again centralizes Preston's output around function-driven apparel, leaving capital-F "Fashion" behind in favor of something more reliable.
In a bid to implement his trade in the "real world," Preston has begun focusing on wearable, rugged gear equally suited to construction sites as city streets. In fact, Preston's working on getting his design team to create garments that are actually OSHA-certified — if not everything, then at least a fraction of his output. To reiterate this drive, Preston has utilized flame resistant textiles, recycled polyesters, anti-bacterial T-shirts and shorts, infusing his eco-conscious ethos with a utilitarian bent.
"It's about listening to my athlete, so to speak," Preston said in a statement. "What does it take to bring fashion into real, applicable, usable workwear?"
Though none of Preston's Caterpillar footwear is in site, the creative has served up a selection of new footwear styles, including the bulbous "Security Sock Boot" and a vulcanized sneaker. In fact, this is Preston's first collaboration-free collection (of "many," according to show notes), placing emphasis on his own apparel. As usual, it's a mix of blue collar standards (work jackets, thick hoodies, straight-legged jeans) and progressive accents (chunky sunglasses, "стиль" prints and warped camouflage), melding the old and the new as Preston finds his footing in an unstable world.
Meanwhile, workwear inclinations also informed the seasonal looks from Levi's RED and DAIWA PIER39.
Click here to view full gallery at HYPEBEAST