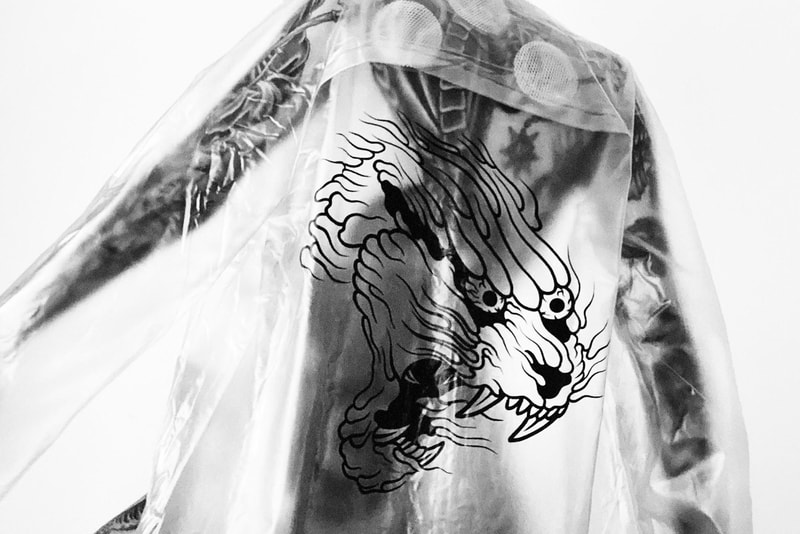 After releasing Carhartt jackets with custom embroidery, acclaimed tattoo artist Henbo Henning now unveils his latest series of Henbo flame ghost designs.
Centering on a unisex transparent pvc rain jacket, the outwear item features the artist's traditional Japanese tattoo motifs including two panther claw flames on the chest and a snake flame on both sides of the detachable hood. A standout feature of the jacket is the large-scale panther head printed on the back portion.
"This is inspired by the clear tracing paper and layers used to develop a tattoo design. To be able to see patterns and colors under the image that's creates layers makes and interesting silhouette," said Henning in a statement to HYPEBEAST.
Henning recently opened up a new tattoo shop in New York City's Greenpoint neighborhood in Brooklyn called GOOD LUCK NYC with his colleague and famed Japanese tattooist, Kiku Punk. "Kiku has been tattooing in New York for over 20 years and he wanted to finally have his own place. Kiku came up with the name which we wanted to be something positive, classic, and easy to remember," said the artist in an exclusive interview.
Check out the Flame Ghost Panther jacket in the slideshow above modeled by Hannah Khymych and purchase one now on Henbo Henning's website for $25 USD.
Elsewhere, FVCKRENDER is preparing to launch a massive experience with trippy NFT artworks.
Click here to view full gallery at HYPEBEAST