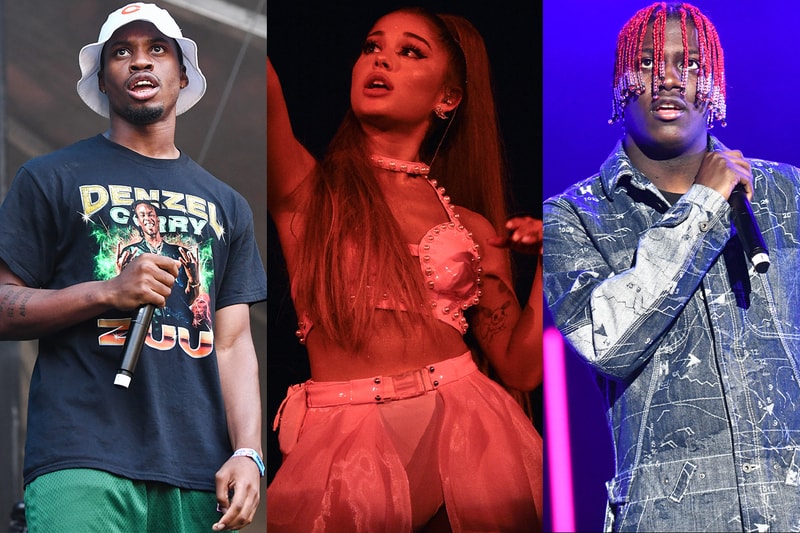 As the week in music comes to a close, HYPEBEAST has rounded up the 10 best projects for the latest installment of Best New Tracks.
Leading this week's list are Denzel Curry, Kenny Beats, Robert Glasper and Smino for a remix of "So.Incredible," Ariana Grande with positions (Deluxe) and Lil Yachty and Kodak Black with "Hit Bout It." Other powerful collabs include Mahalia and Rico Nasty, Pink Siifu and Fly Anakin, Vegyn and Jeshi and BADBADNOTGOOD and Nick Hakim, plus releases from serpentwithfeet, KAYTRANADA and Mr. Eazi.
Denzel Curry x Kenny Beats x Robert Glasper x Smino – "So.Incredible"
Denzel Curry and Kenny Beats joined forces with friends Robert Glasper and Smino for a remix of their UNLOCKED track "So.Incredible.pkg." The new version is set to appear on Curry and Beats' forthcoming remix project UNLOCKED 1.5, which is also expected to feature contributions from Joey Bada$$, Benny The Butcher and more.
Listen: Spotify | Apple Music
Ariana Grande – positions (Deluxe)
Ariana Grande dropped off the deluxe version of her sixth studio album positions, adding a total of five new tracks to the 19-track project: "someone like u," "test drive," "worst behavior," "main thing" and the "34+35 (Remix)" with Megan Thee Stallion and Doja Cat.
Listen: Spotify | Apple Music
Lil Yachty x Kodak Black – "Hit Bout it"
Lil Yachty and Kodak Black teamed up to deliver their collab, "Hit Bout It." The high-energy cut arrives with a music video that shows the pair showing off their riches, matching Ferraris, valuable fashion pieces and dripping chains.
Listen: Spotify | Apple Music
KAYTRANADA – "Caution"
KAYTRANADA released his latest effort "Caution" as part of TikTok's Black History Month celebration. His first solo release this 2021, the cut effortlessly fuses elements of funk, disco and house into an innovative mix, and its syncopated kicks, splashy snares and energetic vocal samples also explores a hotspot of Black music innovation — the block party.
Listen: Spotify | Apple Music
Pink Siifu x Fly Anakin – "Blame"
Pink Siifu and Fly Anakin dropped off the first and only single of their upcoming $mokebreak EP, "Blame." The new cut features production from Detroit's very own Black Noise, and their forthcoming project is set to see guest verses from Chuck Strangers, 3WaySlim and more.
Listen: Spotify | Apple Music
Vegyn x Jeshi – "I See You Sometimes"
Frank Ocean collaborator Vegyn teamed up with London's Jeshi for his new single, "I See You Sometimes." The melancholic electronic rap cut is set to appear on his upcoming EP Like A Good Old Friend, which will feature six new tracks that hear him take a deeper dive into dance music with an unconventional and emotional twist.
Listen: Spotify | Apple Music
Mr Eazi –  Something Else
Nigerian artist and business innovator Mr Eazi has dropped off his newest EP, Something Else. Hot on the heels of an extremely busy 2020 — expanding his emPawa Africa talent incubator, launching the Africa Music Fund and collaborating with the likes of Major Lazer, Nicki Minaj and J Balvin — the five-track project is a stellar effort from Eazi. "I spent the entire year working on building emPawa Africa and morphing into 'Don Eazi', the mogul," he said of 2020. "I almost had no time to record. This project was inspired by Kel P and Killertunes, who kept coming to meet me in Accra until I finally recorded 'The Don.' That opened the door for me getting back in the studio."
Listen: Spotify | Apple Music
BADBADNOTGOOD x Nick Hakim – "QADIR"
BADBADNOTGOOD hopped on a remix of Nick Hakim's 2020 track, "QADIR." The refreshing version is part of the Brooklyn-based musician's remix project of WILL THIS MAKE ME GOOD, which will also include several remixes from the likes of AceMo, Pink Siifu, KeiyaA, Slauson Malone, James Krivchenia of Big Thief and more.
Listen: Spotify | Apple Music
Mahalia x Rico Nasty – "Jealous"
Mahalia and Rico Nasty delivered their collaborative single, "Jealous." The GRAMMY-nominated R&B star revealed she wrote the song at the end of Summer 2020 and was purging some emotions from the weeks before. "'Jealous' was born pretty fast after chatting. It was a weird time… I was dealing with friends being super unsupportive about decisions I was making and I was struggling with navigating that," she said. in a statement. "I'm really proud and excited about what came out in this song and I hope people love it in the same way we did when we wrote it. Rico Nasty is a badass and one of my favourite artists so getting her to feature was a huge moment for me."
Listen: Spotify | Apple Music
serpentwithfeet – "Same Size Shoe"
As serpentwithfeet preps for the release of his upcoming album DEACON, the Los Angeles-based artist dropped off a brand new single entitled "Same Size Shoe." The latest cut touches on the tender and passionate sides of love explored throughout the record and hears the artist navigate his desire to date Black men only as they are the ones who can fully relate to him. "I prefer to date and love on Black men. I don't want to be with anyone who can't go to my barber or walk a mile in my shoes," he said in a statement.
Listen: Spotify | Apple Music
Click here to view full gallery at HYPEBEAST